---
About the hotel Palisad:
Cosy and comfortable rooms
Affinity of entertaining infrastructure
Comfortable accommodation conditions
---
Special offer! Discounts for guests staying in mini-hotel
10% off discount for steam bath
Gym - for free
50% discount for mini-golf
---
Photos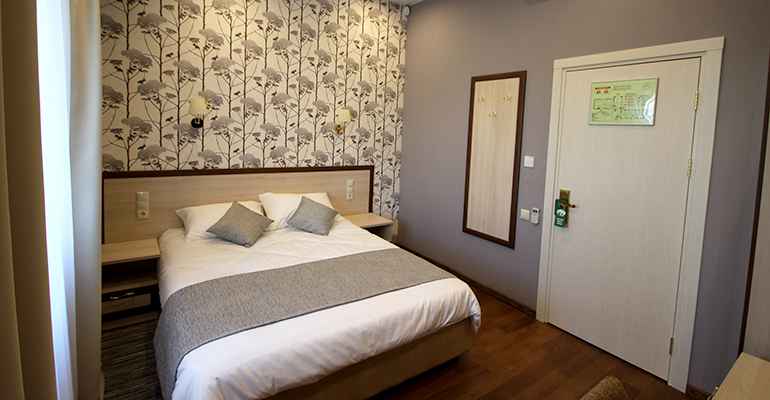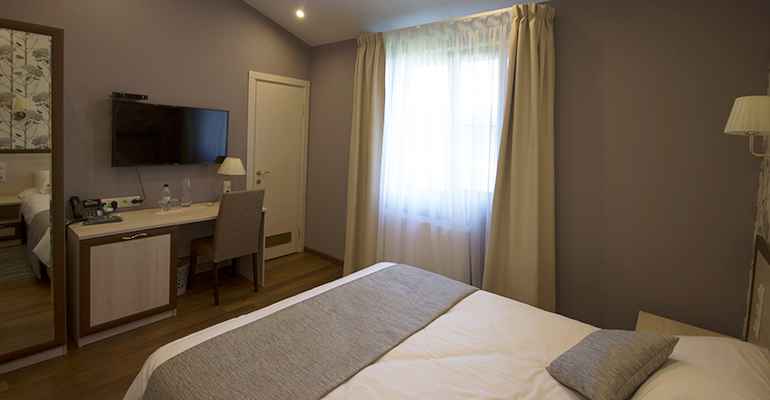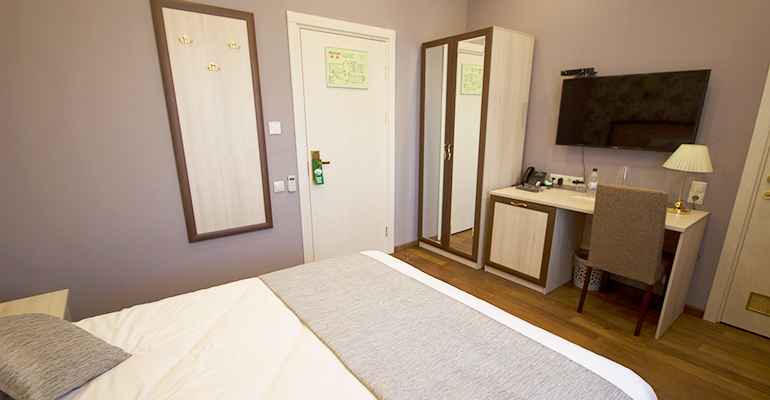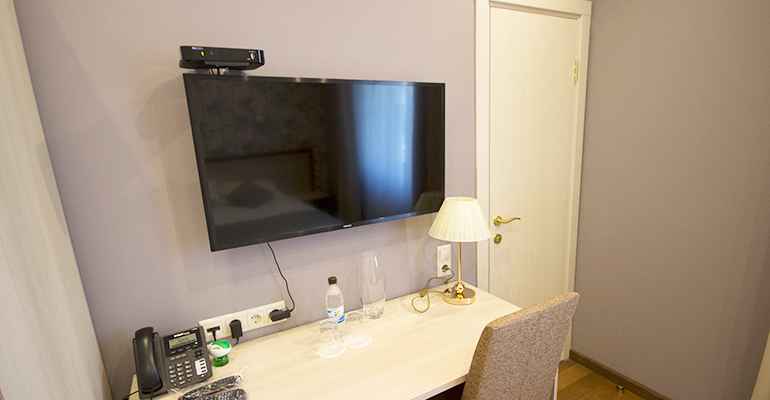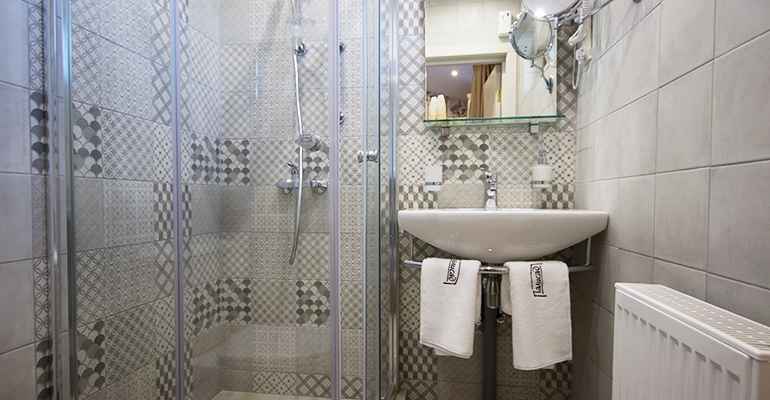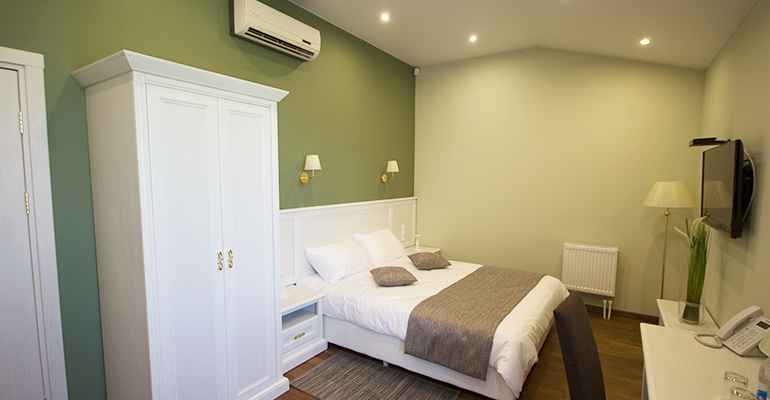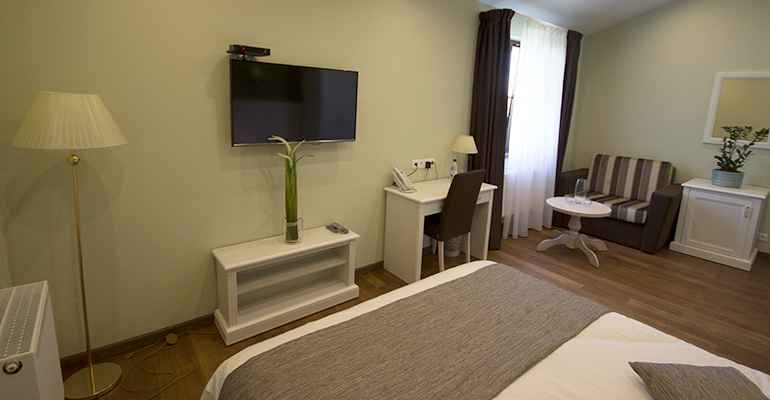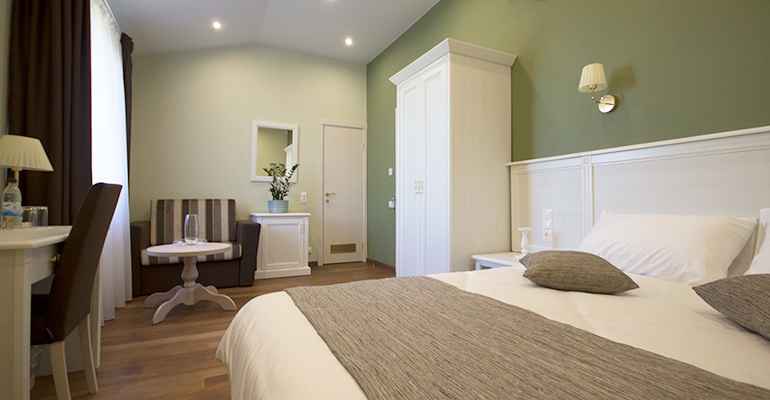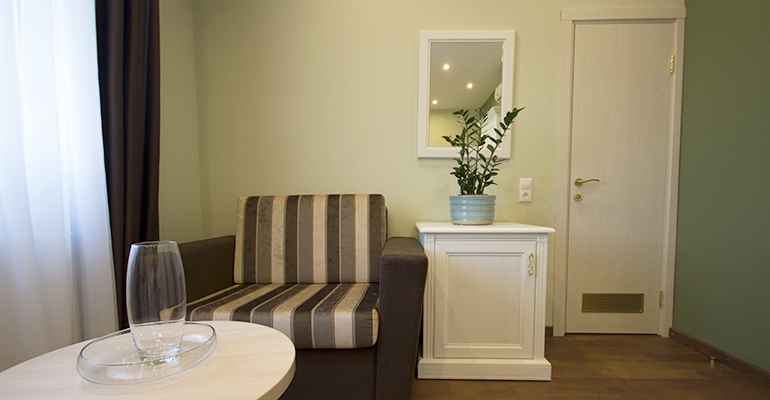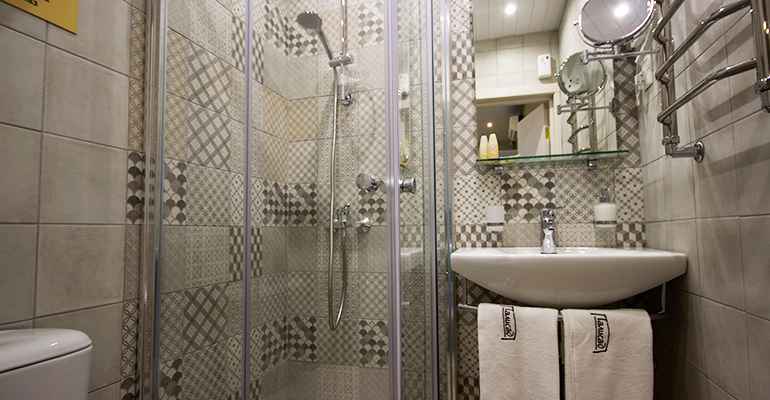 ---
Prices
| Category | Without meals | Meals: Breakfast weekdays / weekends | Meals: Breakfast, lunch, dinner (weekends and holidays) |
| --- | --- | --- | --- |
| Single (1 guest) | 2 400 | 2 600/3 400 | 4 400 |
| Standart (2 guests) | 3 600 | 4 000/4 700 | 6 200 |
| Superior (2 guests) | 4 050 | 4 450/5 750 | 7 250 |
Children under 6 years stay free of charge without a separate bed in the room, cot with linen 300 rubles / day.
Accommodation rules Accommodation rules in "Palisad" hotel
Hotel services agreement Hotel services agreement
*No night service in "Palisad" hotel from 21:00 till 09:00.
"Palisad" hotel is a wonderful site in only 45-minute drive from the Moscow ring road. You can come to our hotel in the vicinities of Moscow with your family and friends, colleagues, business partners, or your darling. Fresh air, versatile entertaining program for adults and children, spacious rooms for accommodation, restaurant with a plenty of tasty dishes - these are some of numerous exciting things the countryside hotel in the vicinities of Moscow can offer.
Comfortable recreation
When choosing a hotel in the vicinities of Moscow for a weekend, first of all you'll probably pay your attention to conveniences, won't you? "Palisad" hotel offers cosy, spacious, and light rooms equipped with everything which the one can require for a comfortable rest. You can choose a room for one, two, and more guests.
Room categories
Single.
Standart.
Superior.
Every room has a single or double bed, wardrobe, worktable with a chair, TV with Smart TV, hair dryer, shower cubicle, phone, mini-bar, mirror, lock box, air conditioner, and Wi-Fi. Superior room has a coffee table and a mini-sofa. You'll like our original design and superior comfort of rooms in our inexpensive hotel in the vicinities of Moscow.
You may wonder how our rooms in the hotel located in the vicinities of Moscow differ from each other. The main distinction is the premise area. Aside from that all rooms are similar and feature nice, stylish design, modern domestic appliances, pleasant scent of cleanliness and fresh bed-clothes and overlook picturesque landscapes.
Our managers will help you to choose a room according to your wishes and planned budget of a stay. We aim to ensure satisfaction of every our guests who stays in the hotel in the vicinities of Moscow for a day or a longer period. Besides, you can rent comfortable cottages - cosy houses for a small company equipped with everything which is essential for a pleasant stay and recreation in "Petrukhino club".
Tasteful recreation
No weekend or celebration on the countryside goes without tasty meal! The restaurant is in the same building with the hotel and you can order a tasty breakfast, lunch, or dinner to your room, if you want. Our cooks create unforgettable masterpieces and serve them as tasty and healthy dishes for our guests. We have a special children menu.
Holidays with a highlight
At our restaurant, you can order organization of celebration, banquets, and picnics outdoors - for a wedding or anniversary, corporate and business parties, unforgettable children holiday with clowns and entertainers. We are always glad to welcome our guests and adore fabulous parties including theme ones. Creative ideas and their masterful embodiment - every holiday in the country hotel in the vicinities of Moscow will be a notable event you'll remember for a long time.
Entertainments for adults and children
"Palisad" is a wonderful hotel for family recreation. We did our best by creating cosy atmosphere and picking the most exciting entertainments for you.
At your service!
Family recreation – barbecue platform, ropes course.
Water activities – rent of boats and catamarans, fishing on pond.
Sports – gym, football field.
Outdoor activities – rent of 4-wheelers, pit bikes and bicycles, shooting range.
Recreation with horses – horse rides, training courses.
Recreation for our small guests – children playgrounds.
Tasty recreation – cosy restaurant, picnics, banquets, tent.
Our infrastructure is very convenient - all attractions are located in the walking distance from each other. Have a rest together or have a rest from each other in our hotel in the vicinities of Moscow on weekend. Every guest will find an exciting activity, far from large megalopolis, in the atmosphere of magnificent country nature.
Peace and quiet
Would you like to have a rest in a peaceful atmosphere of quiet and silence? Would you like to try new activities or renew your old hobbies? We are absolutely sure you'll like your stay in "Palisad" hotel. During the day, you can ride a horse, fish on the lake, make a bicycle or 4-wheeler tour or devote some time to workout in a gym. And when the darkness falls - chat with your nearest and dearest while having a supper in our restaurant or enjoying barbecue outdoors.
You'll want to come back to "Palisad"!
Rest in the hotel in the vicinities of Moscow for a day or a couple of days is an excellent opportunity to relax with your soul and body. We are always glad to welcome our guests and offer all conveniences - reasonable prices and first class service. Workers of our hotel do their best to create perfect recreation conditions for you and are always ready to help. Are you searching for inexpensive hotel in the vicinities of Moscow with flawless service? "Palisad" hotel is at your service - come visit us and you'll want to repeat your stay.